Biocare 12-Channel ECG Machine with Interpretation (IE12A)
Get a complete and quick view of 12-channel ECG waveforms with great Efficiency.
12 Leads Simultaneous Acquisition
IE12A ECG machine could simultaneously process 12 leads of ECG signals and will automatically analyze heart waveforms. Its user-friendly design ensures easy operation and freedom of built-in ECG parameters measurement and interpretation.
Print directly in 12 channels, more time-saving
High resolution color touchscreen with handwriting function
Share in PDF, DICOM, XML formats, easy transmit patient reports to hospital network
Advisory rhythm analysis based on authorized databases
Provide advanced analysis of Vectorcardiography
Built-in handle, easy to carry
Support ECG tests and analysis for adults & children
Built-in Handle for Remote ECG Tests
iE12A ECG unit weighs about 3.4kg (7.5lbs). With built-in handle, the 12-lead ECG machine is easy to carry to anywhere the patient need the most. Perfect choice for ambulance or emergency healthcare workers.
Large Touchscreen with Handwriting Function
This 9-inch TFT-LCD display with a 15-degree angle is clear to read. Its touchable screen makes the operating system faster, saving time for cardiologists, physicians, and EMS staffs.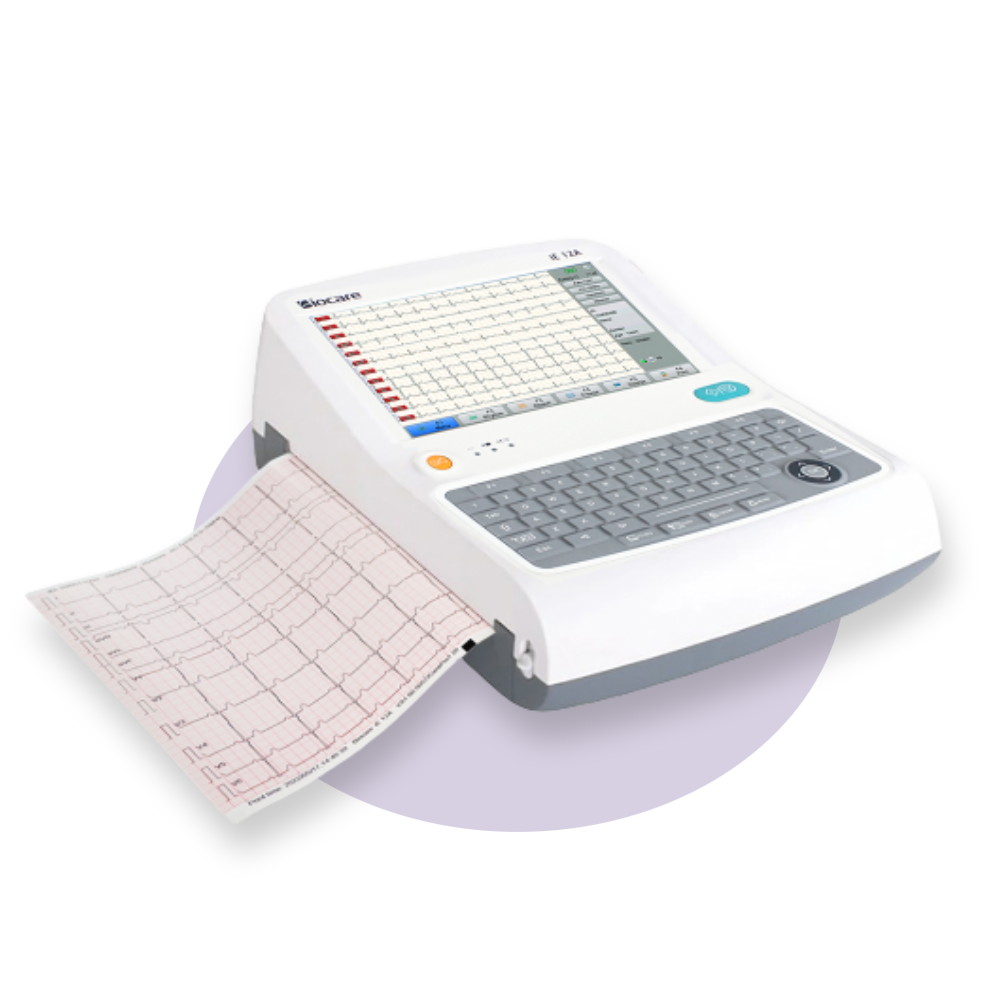 12-Channel ECG with Instant Printouts
Get various printing fomats in 3×4, 3×4+R, 3×4+3R, 6×2, 6×2+R, 6×2+3R, 12, 12+R, 12+3R. Adjustable printing speed from 5mm/s to 50mm/s. All the waveforms and analysis results in economic mode are designed to be printed on large size of thermal paper (210mmx140mm), to save paper costs.
VCG Acquisition for More Advanced Diagnosis
Vectorcardiogram (VCG), a kind of cardiogram for observing and recording the 3D electrical activities of human hearts, is commonly used for diagnosis and location for myocardial infarction, especially for posterior and inferior myocardial infarction. It can accurately record every moment of vector value, direction and process of changing. When the ECG diagnosis is uncertain, a VCG test may help.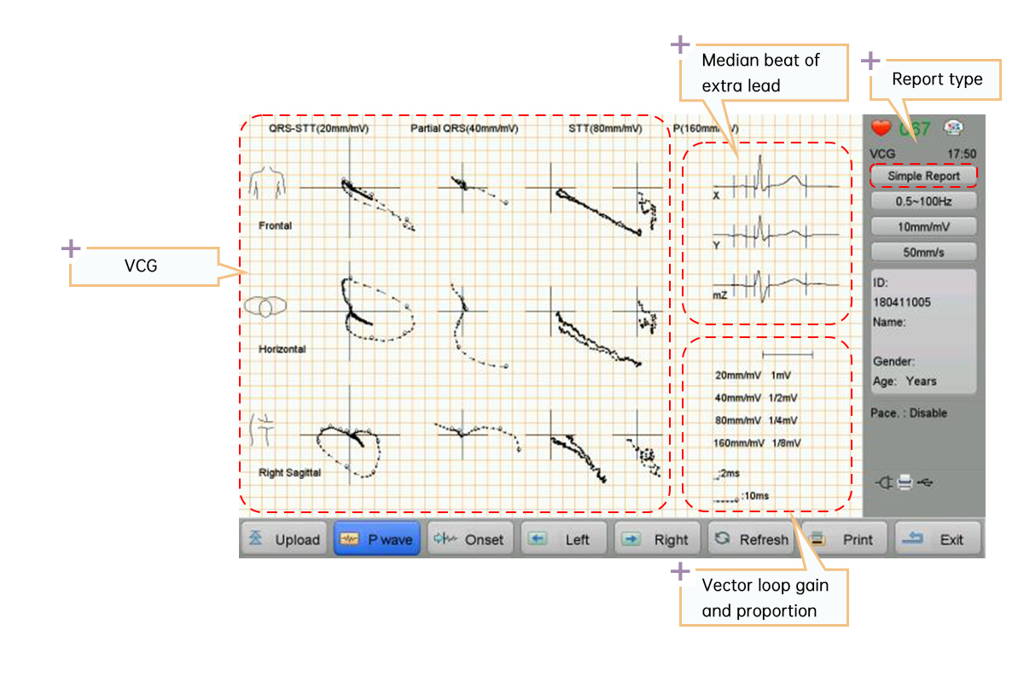 Authorized Excellence in ECG Interpretation
Specific age and gender differential validity in Biocare's CardioPro™ ECG analysis program maximize the accuracy of the ECG interpretation. The analysis program has been proven by official CSE (Common Standards for Quantitative Electrocardiography) database evaluation with high accuracy and reliability in measurement and interpretation.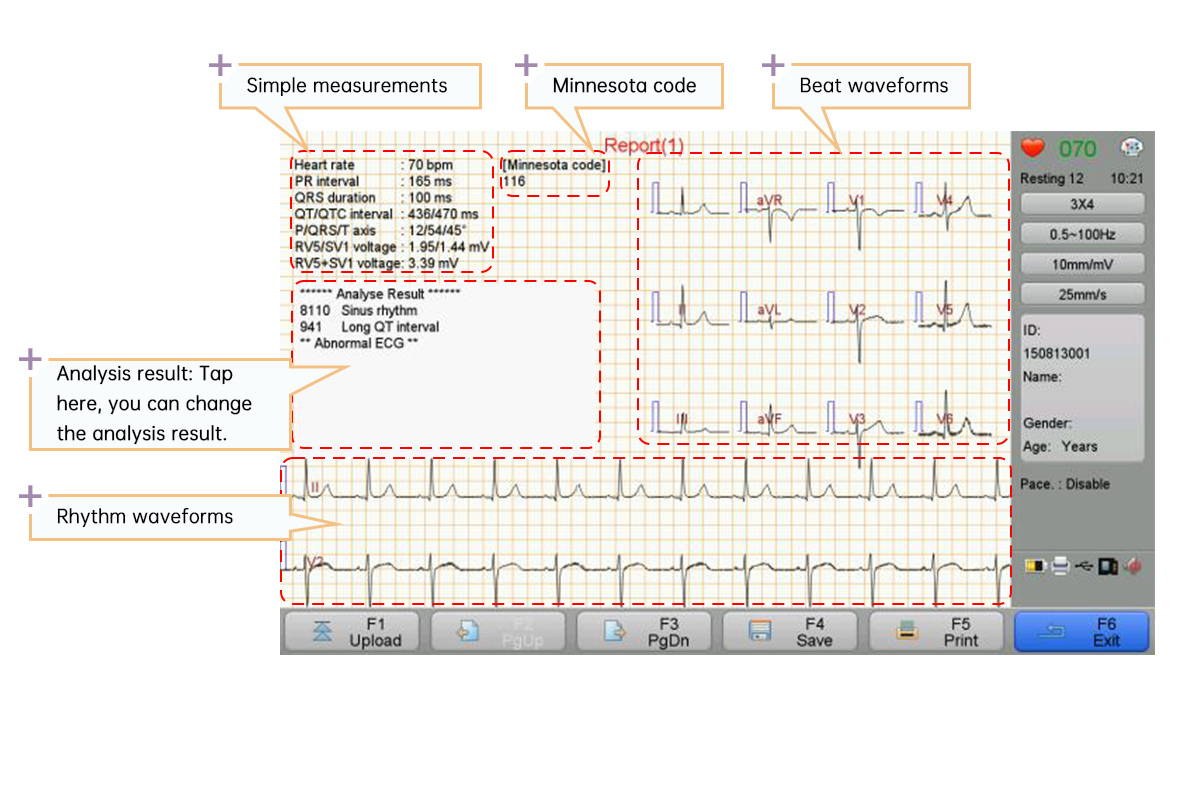 Advisory ECG Analysis For Adults & Pediatrics
0.01 Hz high-pass filter, more sensitive in weaker ECG signal detection, contributes to undistorted ST-segment measurement and analysis. Exclusive analysis module for pediatrics with 250Hz low-pass filter meets the latest standard of AHA (American Hospital Association) /ACC ( American College of Cardiology) /HRS 2007 (Heart Rhythm Society).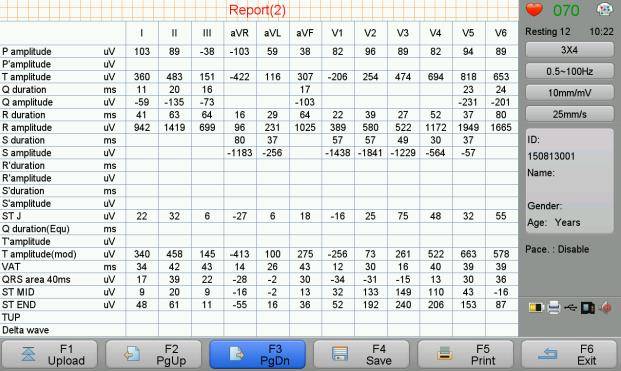 Detailed Measurement Data For Clinical Reference
The time-coherent data in multiple leads is stated on the ECG detailed report. Measurements such as P-wave amplitude, R duration, and S-T segment data are listed for clinical reference, help enhancing the efficiency of diagnosis.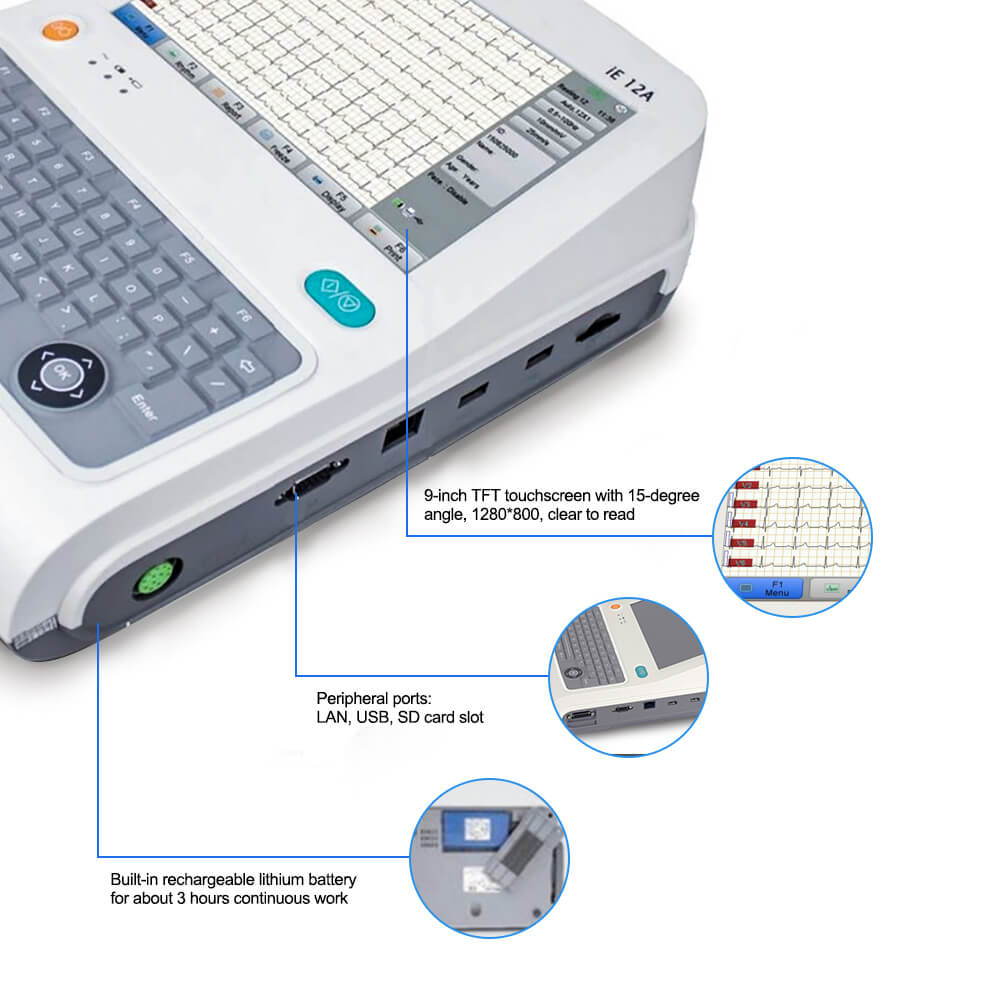 Advanced Features Make Operation Easier
9.0'' high resolution full-view display: make every wave clear

2 ways of charging: AC powered for unstoppable working mode; Built-in rechargeable battery to assure up to 3 hours continuous operation

Multiple ports: USB, SD card port for saving, and LAN for net connection. (*USB 2.0 drive only)

Shortcut keys: fast operation in one tap

Massive storage: up to 1500 files
Print Reports in ECG & VCG Formats
Waveforms are in ratio of 1:1 with grid lines in the background that matches the diagnosis practice of doctors.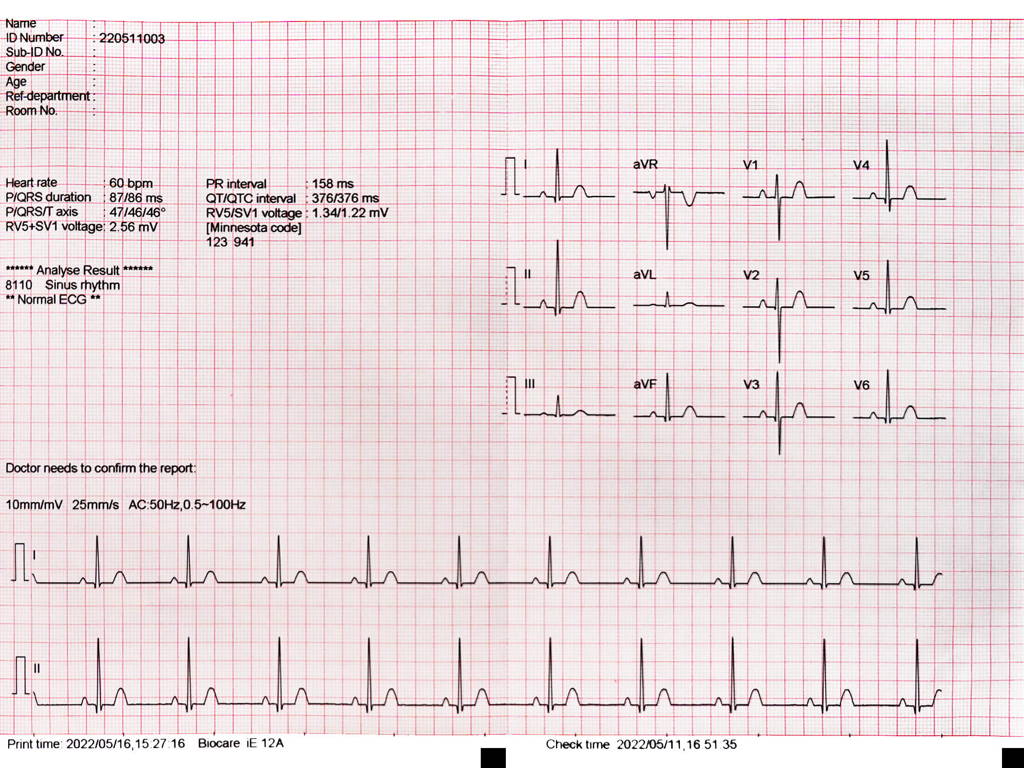 ECG (Electrocardiography)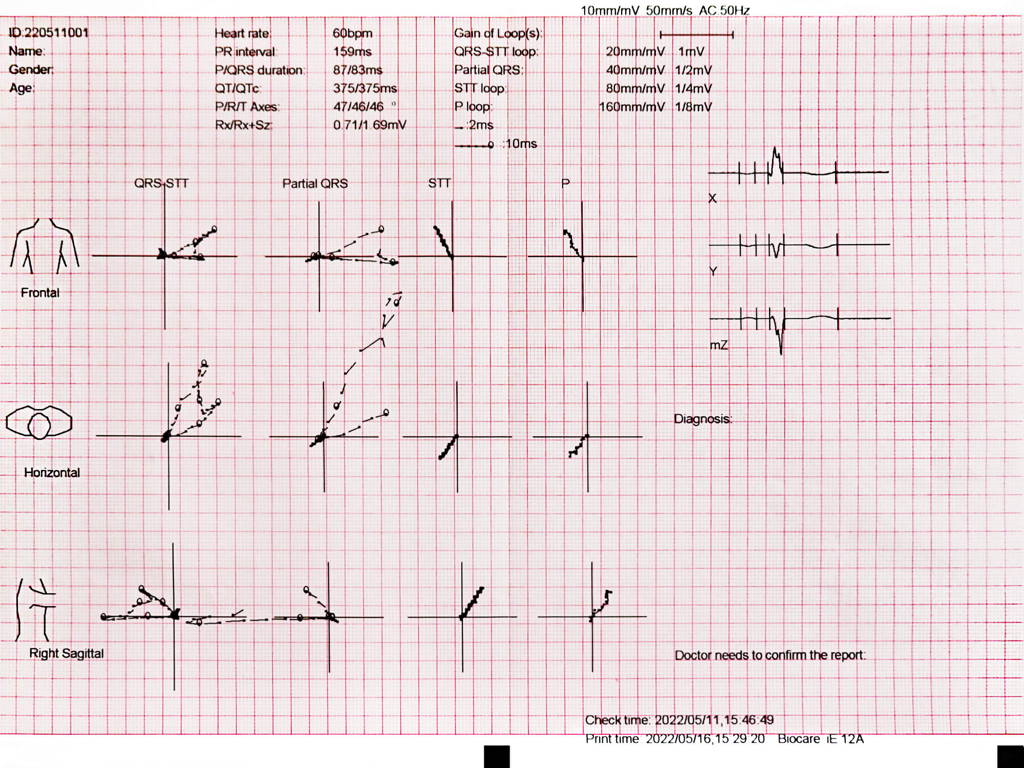 Easy Data Management within Hospital Networks
Easy connect to hospital information system, EMR and PACS via LAN and USB 2.0 flash drive. Export files in 5 formats: ECG, XML, DICOM, JPEG, and PDF. Physicians can securely manage patient records within the hospital network.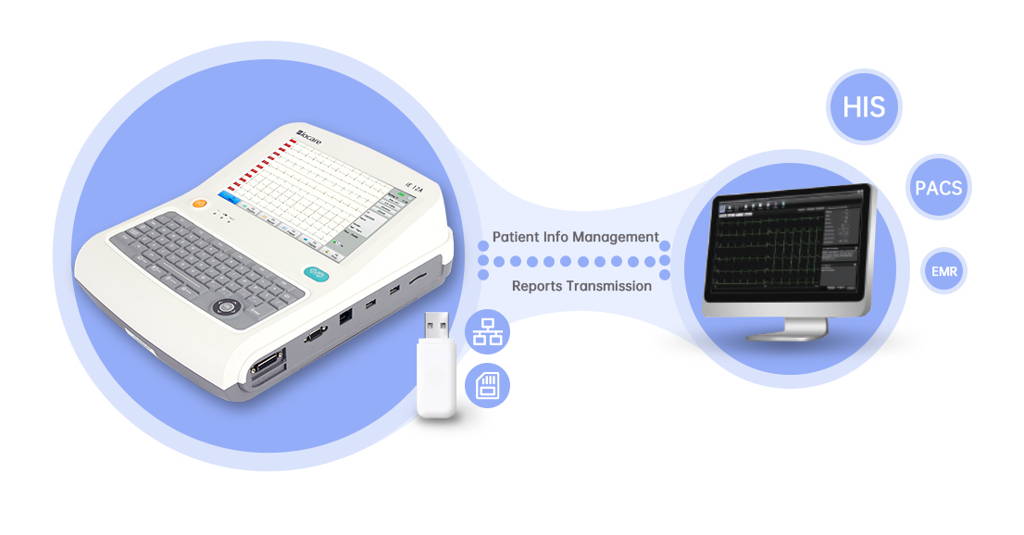 *Configure HL7 function first to make sure the ECG machine can communicate with HIS (refer to HL7 Configuration in the user manual for details or contact us for IT support).
Standard 12 leads; Cabrera; Nehb
Rechargeable, 3-hour continuous work
Rechargeable, 3-hour continuous work
Z-fold paper: 210mm*140mm
Included in the package, we provide everything you need to operate the unit:
Extra Disposable Electrodes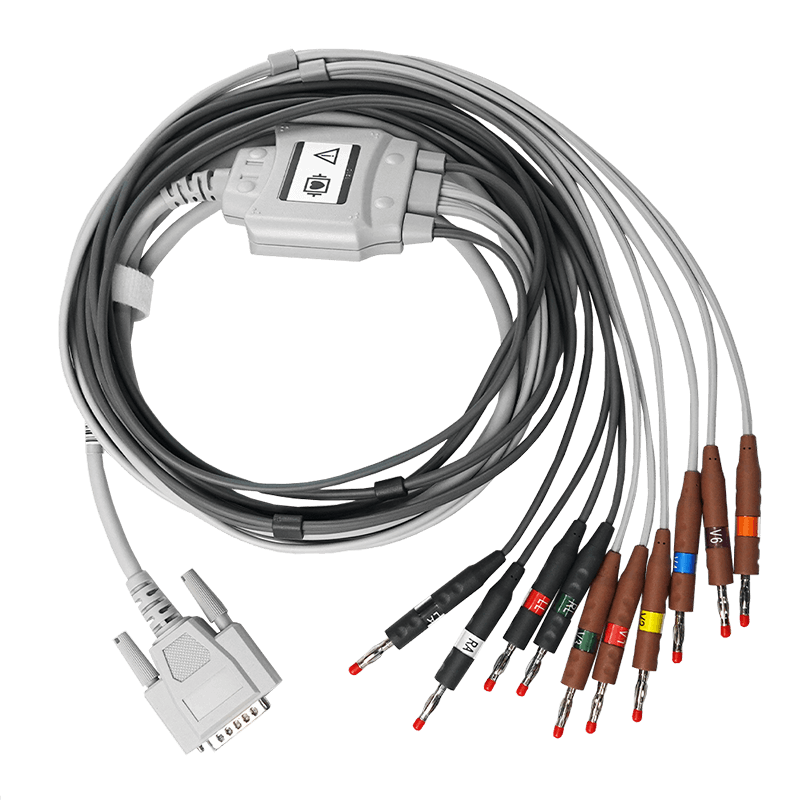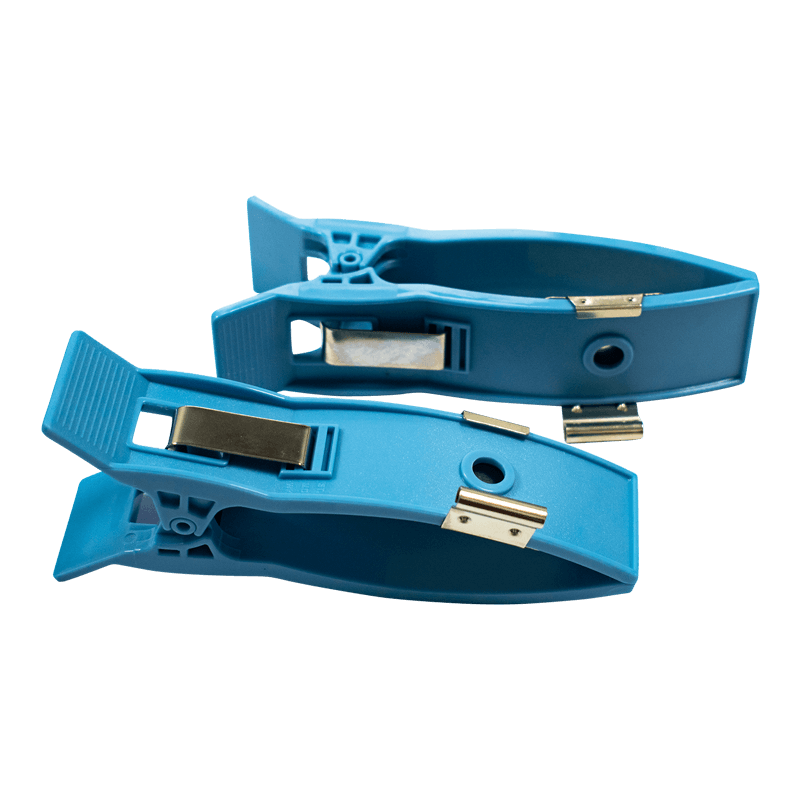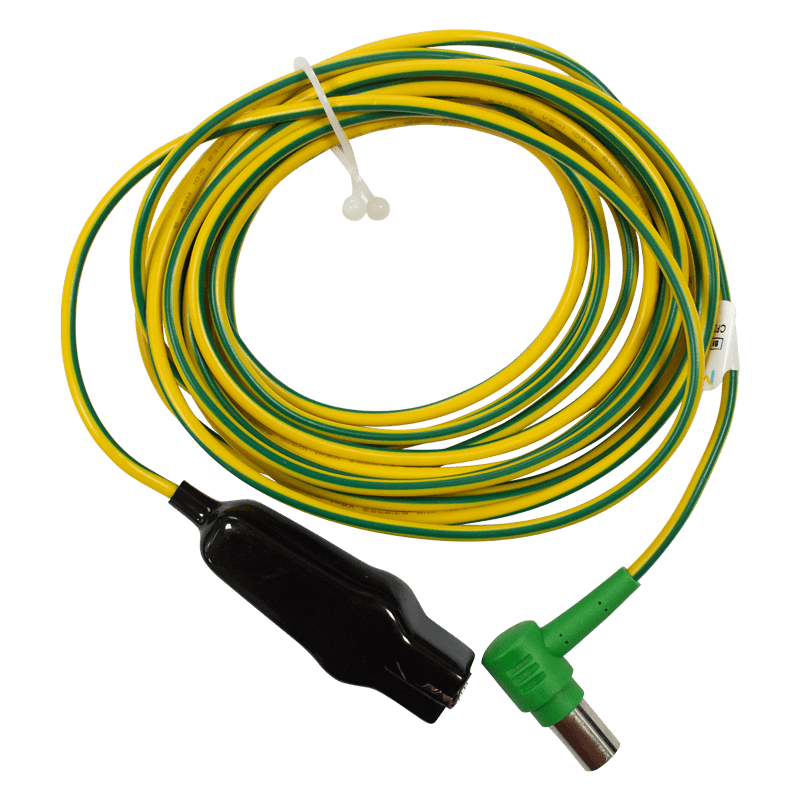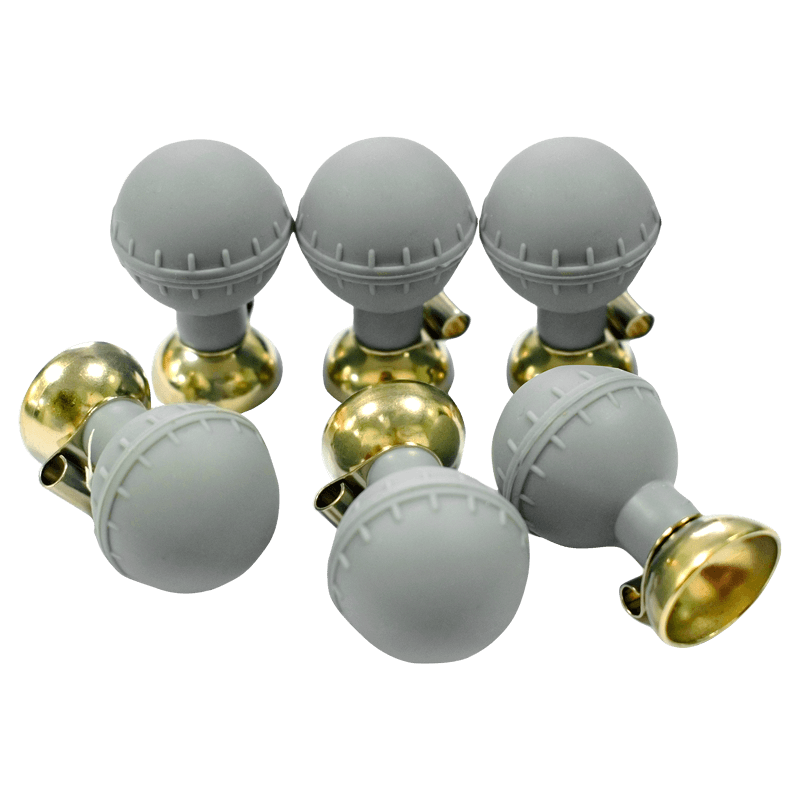 In Case You Need Extra Accessories
Frequently Asked Questions
Need help finding an answer to your question? Ask our customer support at support@mdcubes.com.
Will this detect pacemaker spikes?
Yes, this 12-lead EKG machine has pacemaker detection.
For the chest leads, are those suction? Does the electrodes have the tabs for the clips?
We provide two ways for chest lead measurements. You can either use suction electrodes or snap-clip adapters (with disposable electrodes we provide in the package), depending on your habit to do EKGs. The disposable electrodes and the snap-clip adapter should be use together on the chest.
Digital Electrocardiograph (Model: iE12A)
11.1'' x 7.5'' x 2.3''
(281mm x 191mm x 59mm)
100V-240V, 2.0-1.0A, 50-60Hz
Standard 12-lead, Nehb, Cabrera, Frank
8.9'' TFT LCD full-view screen
Rechargeable built-in lithium battery (14.8V/ 4400mAh)
Adults (older than 12 years old); Pediatrics (age: 29 days - 12 years old);
Neonates (infants born less than 28 days)
30s~300s waveforms acquisition for rhythm analysis
Windows XP, Win7, Win8, Vista in
32/64 bit
Standard leads: 3×4, 3×4+1R, 3×4+3R, 6×2, 6×2+1R, 6×2+3R, 12×1;
Nehb lead: 6×1, 3×2;
VCG: 6×1+3, 3×2+3, 3×2+3+1R, 3×2+3+3R, Frank
Thermal Dot Matrix Word Printing System
210 mm×140 mm (140 pages), Z- fold paper
≥3500 records (10-second acquisition), support external SD card, U disk
Would be nice to have a YouTube review demo in English
ECG Snap-Clip Adapters (10 pieces)
Disaposable Electrodes (10 pieces)
For countries and regions we can deliver to, the referenced transit time is 2-8 business days. To check the countries and regions we can deliver to, please refer to our
Shipping Policy
.
Our company guarantees the new instrument on the material and technological qualification for this product within 18 months and the accessories within 6 months since the purchasing day, while consumables are not included in the guarantee. This warranty is inapplicable to the products undergoing any modifications, disassembles, refittings or self-repairings without the permission of our company. We're not responsible of the products damaged by accidents such as fire, thunder and lightning, flood and other disasters, intentional damage, improper installation and improper usage.
30-Day Money Back Guarantee
During the first 30 days after receiving your order, if you are not 100% satisfied with our service, feel free to return your device to us for a refund. Only the purchase on
www.mdcubes.com
can return to us. Your payment card will be credited upon your receipt of the returned merchandise. Any item damaged due to reasons that are not included in the warranty cannot be qualified for a refund. If you are certain to return your orders, please contact us first at support@mdcubes.com. We provide 24/7 ticket inquiry and email support. Thank you for choosing MDcubes!
THE INTENDED USE OF BIOCARE DIGITAL ELECTROCARDIOGRAPH (MODEL: IE12A) IS TO ACQUIRE ECG SIGNALS FROM ADULT AND PEDIATRIC PATIENTS THROUGH BODY SURFACE ECG ELECTRODES. THE PRODUCT HAS RECEIVED CE MARK (EC CERTIFICATE LINK) AND FDA APPROVAL (FDA CLEARANCE LINK). THE ELECTROCARDIOGRAPH IS ONLY INTENDED TO BE USED IN HOSPITALS OR HEALTHCARE FACILITIES BY DOCTORS AND TRAINED HEALTHCARE PROFESSIONALS. THE PROPOSED DEVICE HAS ANALYSIS FEATURE, HOWEVER THE ECG WITH MEASUREMENTS AND INTERPRETIVE STATEMENTS IS OFFERED TO CLINICIAN ON AN ADVISORY BASIS ONLY. ANY NON-CLINICAL PURPOSES WILL VOID ANY APPLICABLE PRODUCT WARRANTY. PLEASE CAREFULLY READ AND UNDERSTAND ALL CAUTIONS, WARNINGS AND OPERATIONAL MANUALS PRIOR TO USE.
100% Secure Online Payment
Covered by our Return Policy