Can I use this device with a pacemaker?
We recommend that patients with pacemakers consult their doctor about their measurements.
Will the unit tell me if my heart is currently in atrial fibrillation, or will it just read out 'irregular heartbeat?
It can detect if your heart is currently in atrial fibrillation and reported as "irregular heartbeat". Arrhythmia, Heart Pause, Atrial Fibricular (AF), Tachycardia & Bradycardia, Premature Ventricular Contraction (PVC), all of these are shown as 'Irregular heart beat'.
Will this device work with phone APP? How to use with my smartphone?
Yes. The Portable ECG Monitor can work with iOS 9.0 or above, iPhone 4s / iPad 3 or above, also can work with Android 5.0 or above.
The APP name is "ViHealth". Please install the latest APP "ViHealth" on your smartphone(support BLE Bluetooth) from App Store (iOS) or Google Play (Android). Please operate as below:
1) Switch on the device Bluetooth in Setting->Bluetooth.
2) Switch on the Phone Bluetooth.
3) Run the APP, add the device in the APP. (don't pair the device in the phone Setting menu, only in the APP)
4) The data will be downloaded automatically
Will this work with computer? How to use?
Yes. The Personal ECG Monitor can work with windows system and macOS, compatible systems include Windows 7/8/10 and macOS 10.15 or above.
The Software name is "Checkme Browser Pro". Please download the latest version from: https://www.mdcubes.com/pages/pc-software.
Please export data as below:
1)Connect the device to PC with the USB cable
2) On device, Settings->To PC
Does the ECG report include the QTC interval?
The device will not report the QTC interval, but the waveform analysis on the PC software/Mac App has a ruler analysis tool. By measuring the electrocardiogram, it can be seen whether the QTC interval is abnormal.
Do I have to pay to save my ECGs?
No, you do not need to pay to save your ECGs. Our application allows local storage of your ECG history at no additional charge as part of our basic service.
What is the built-in storage?
The storage of unit is 30s x 100 pieces. You can transfer recorded data to unlimited-storage APP and PC software.
Where can I find a pack of replacement electrodes pads?
How long can I record my ECG with this product?
The Personal ECG Monitor provides 3 ECG duration for choice (30 seconds, 60 seconds, and 5 minutes) with 5 minutes being the longest.
How many ways of measurement does this device support?
This device supports 5 ways of measurement as below. For chest lead, we advise you to use the external cable for 5 minutes measurement, which will help you get noise-free ECG.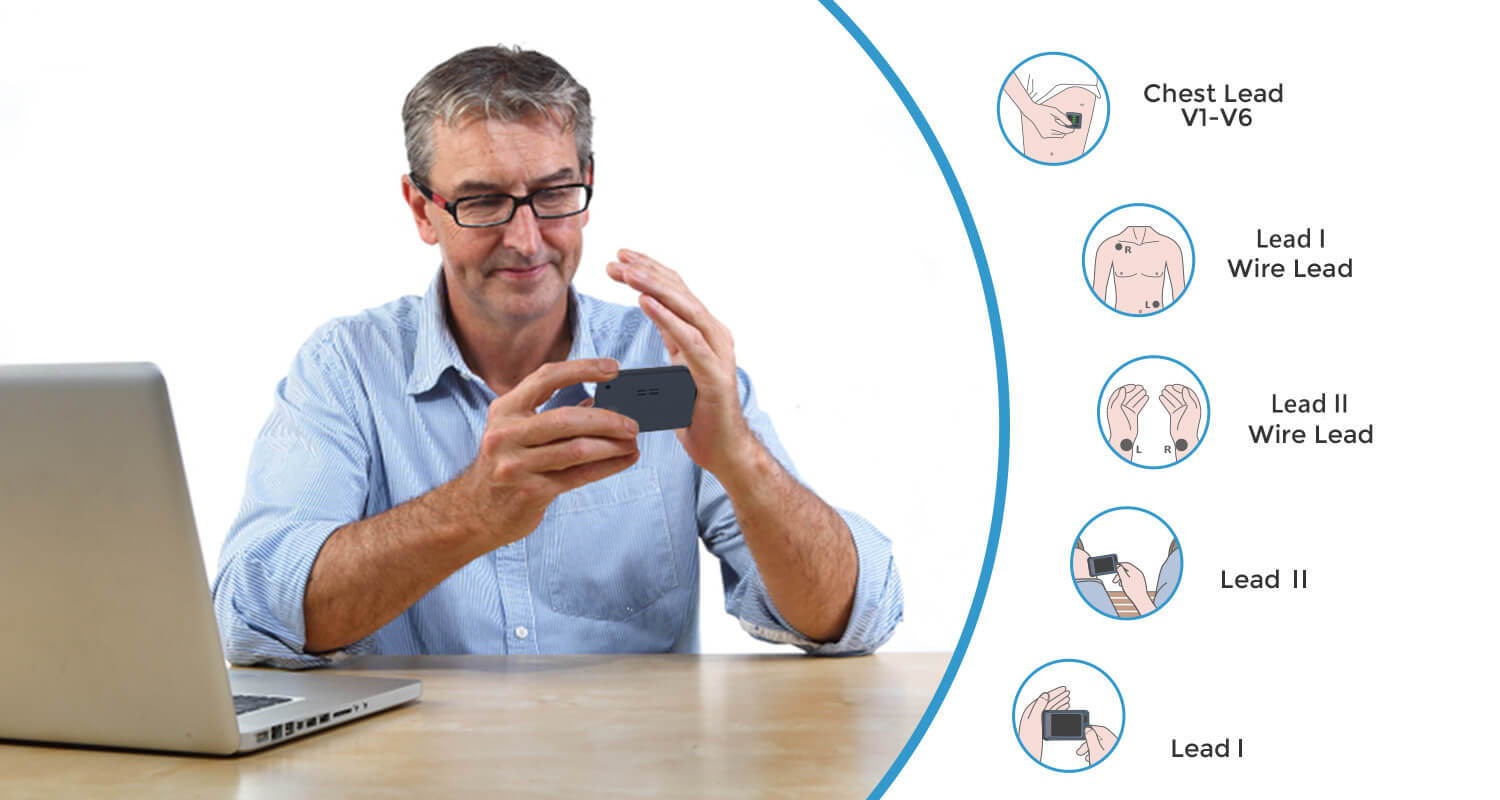 How can I get more electrode pads for replacement?